Product Features:

Allows monitoring of live consumption for the property.
 
Access to historical and average readings for up to 2 years on the monitor via a "History" function.


Supports multiple tariffs.


Simple installation and set up - doesn't require an electrician.
 
Displays greenhouse gas impact, date and time as well as energy usage and cost.

The last 30 days are able to be downloaded and added to a profile on your PC via our OWL+USB Software - allowing graphical analysis and long-term storage. (Windows only)

SOFTWARE DOWNLOADS.  Please download the appropriate language version from the Menu at the right of this page. Please note Windows UAC will prompt you twice for permission to install the software - once at the start and once at the end. This is normal due to device driver installation.

Software compatible with most versions of windows. Software is under active development - please report any issues to https://theowl.zendesk.com. Legacy software compatible with Windows XP, Windows Vista, Windows 7 and Windows 8.* Personal configurations on your PC may cause issues with installation or running of the application; please ensure you install and run the software as an administrator.

*Please note that legacy software is no longer supported but remains in place for customer convenience.
OWL+USB Screenshots
Click for larger images.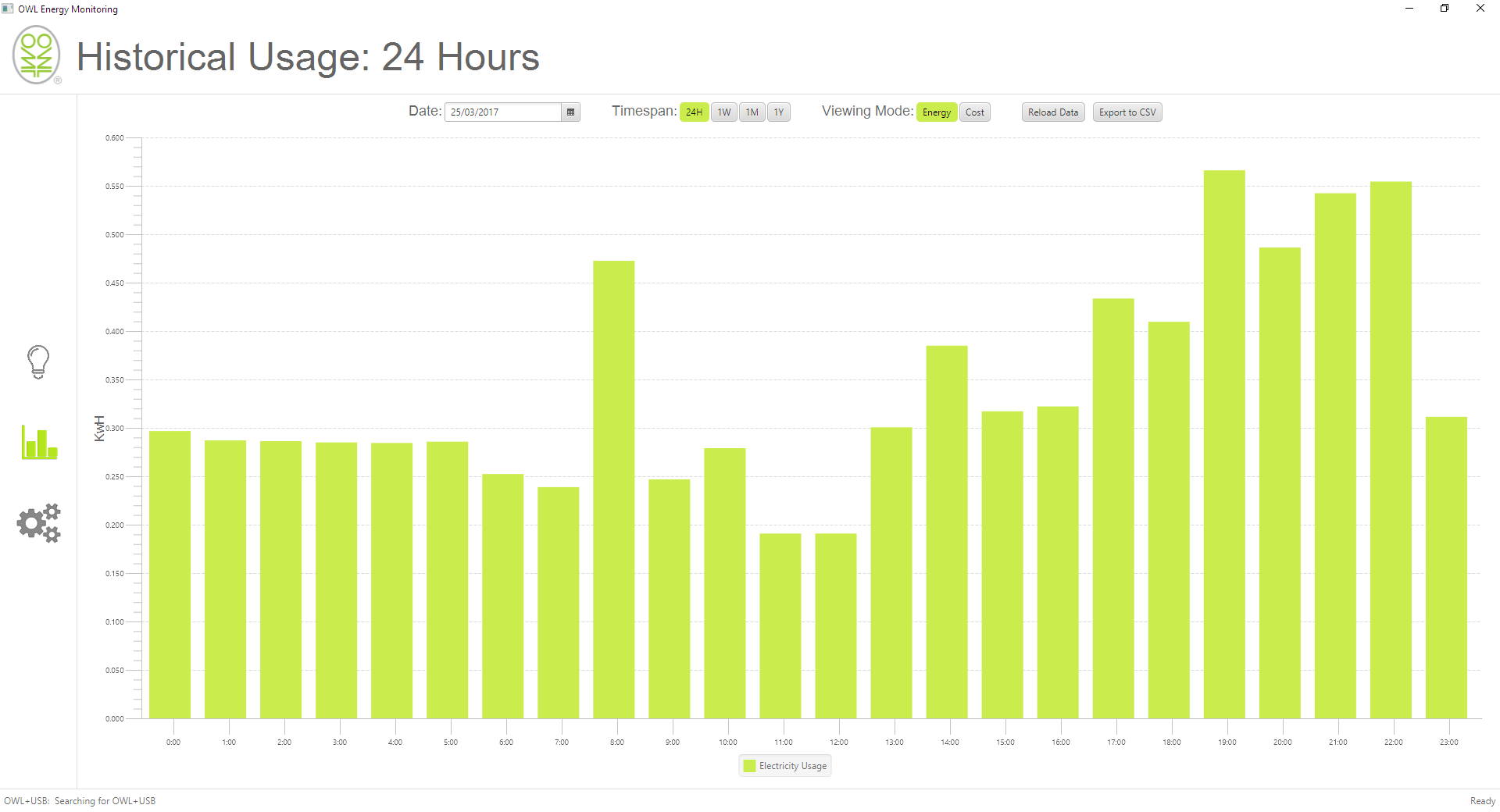 Technical Specifications
Operating frequency 433MHz
Operating range up to 30m
Display battery life > 14 months
Transmitter battery life > 14 months
Sensor suitable to monitor cables rated up to 130A
Storage Conditions: -25 °C to +65 °C
Relative Humidity: 25% to 95%
Operating Temperature: 0 °C to 40 °C
IEC 61010-1:2001(2nd Edition) /
EN 61010-1:2001(2nd Edition)
ETSI EN 300 220-1 V2.1.1 (2006-04)/
ETSI EN 300 220-2 V2.1.2 (2007-06)
ETSI EN 301 489-1 V1.8.1 (2008-04)/
ETSI EN 301 489-3 V1.4.1 (2002-08)
WEEE Directive, RoHS, Battery Directive
Real time and accumulative consumption in kW & kWh
Real time and accumulative cost of consumption in £,$,€
Real time and accumulative equivalent CO2 emissions
Average consumption – Day, Week, Month
Comparative/historical consumption – this/last day, this/last week, this/last month

Top Retailers:

International customers should click here for sellers in their area.